Lost, Found, & Adoptable Pets
This page is dedicated to finding a caring home for pets. For additional resources regarding lost pets and pet adoptions, we recommend visiting the sites for The Animal Friends Rescue Project, Peace of Mind Dog Rescue, and HomeAgain.
If you have questions about the pets on this page, please call us at (831) 372-3524
Pets Needing a Home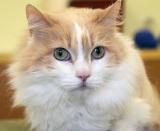 Peaches
Female Cat
Contact: AFRP
Phone: 831-333-0722
Meet Peaches, our Cat of the Week! She's a gorgeous nine-year-old who lost her home due to a family member with allergies. This gentle, sweet kitty gets stressed by too much noise and activity and will thrive in a quiet, serene household. She would prefer to be a single cat in the home. Call 831-333-0722 or meet Peaches at the AFRP Adoption Center in Pacific Grove.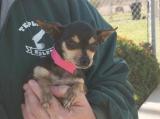 Becca
Female Dog
Contact: Peace of Mind Dog Rescue
Phone: (831) 718-9122
We have another foster home plea - Becca needs a place to call home for awhile. Weighing in at a whopping 3.6 lbs., she won't take up too much room! Friendly and outgoing, this little one is probably around eight years of age. She has some sort of deformity or old injury to her left hind leg - she really does not use it but it does not hold her back in the least. Watch this video of her and see what we mean; this girl is FAST!

http://youtu.be/_Fv11MQw9EU

Becca is still at a shelter and would dearly love to pack her bags and leave as soon as possible. If you can help her move on up to a comfy foster home, please contact us! And please share!